30th August 2013 marks the International Day Against Disappearances. The issue of the disappeared strikes at the core of one of the largest unaddressed legacies of Uganda's turbulent past. In northern Uganda, as a result of different conflicts, the most recent being the infamous Lord's Resistance Army, people disappeared in West Nile, Acholi, Lango and Teso sub-regions. To date, the vast majority of the family members of the missing are unaware about the fate of their loves ones. In most cases, they don't know whether they are alive or dead.
As the world commemorates the lives of people who disappeared, this August, Justice and Reconciliation Project is highlighting the profiles of persons still missing as a result of conflict in northern Uganda alongside their families and friends, and to ensure that the does not forget about their tragic plight.
MISSING PERSONS PROFILE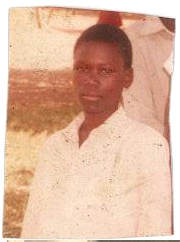 Oming Geoffrey was abducted by the LRA from Ngai sub-county in Oyam district when he was 21. He was last seen in 2002 and his brother suggests amnesty as the solution to finding him.