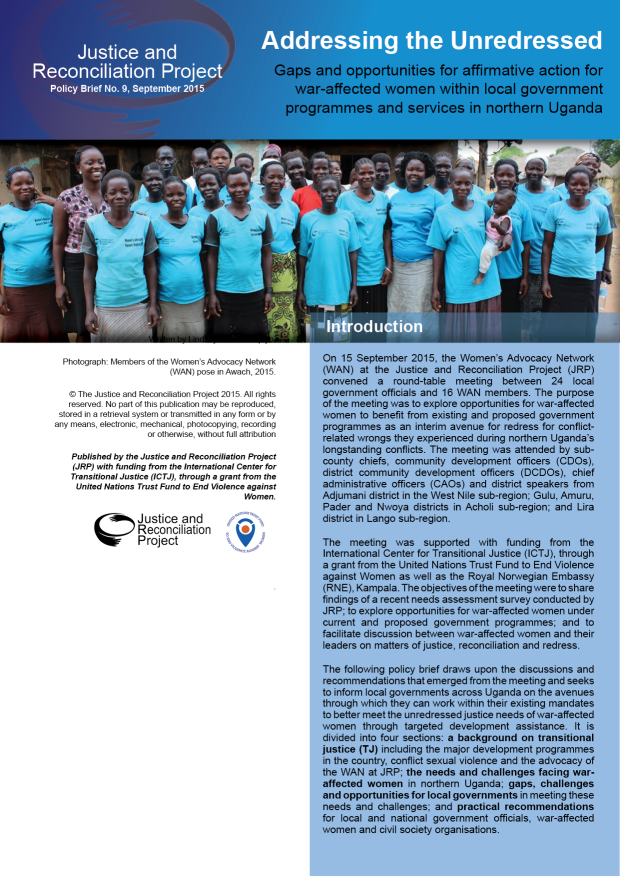 On 15 September 2015, the Women's Advocacy Network (WAN) at the Justice and Reconciliation Project (JRP) convened a round-table meeting between 24 local government officials and 16 WAN members. The purpose of the meeting was to explore opportunities for war-affected women to benefit from existing and proposed government programmes as an interim avenue for redress for conflict-related wrongs they experienced during northern Uganda's longstanding conflicts. The meeting was attended by sub-county chiefs, community development officers (CDOs), district community development officers (DCDOs), chief administrative officers (CAOs) and district speakers from Adjumani district in the West Nile sub-region; Gulu, Amuru, Pader and Nwoya districts in Acholi sub-region; and Lira district in Lango sub-region.
The meeting was supported with funding from the International Center for Transitional Justice (ICTJ), through a grant from the United Nations Trust Fund to End Violence against Women as well as the Royal Norwegian Embassy (RNE), Kampala. The objectives of the meeting were to share findings of a recent needs assessment survey conducted by JRP; to explore opportunities for war-affected women under current and proposed government programmes; and to facilitate discussion between war-affected women and their leaders on matters of justice, reconciliation and redress.
This policy brief draws upon the discussions and recommendations that emerged from the meeting and seeks to inform local governments across Uganda on the avenues through which they can work within their existing mandates to better meet the unredressed justice needs of war-affected women through targeted development assistance. It is divided into four sections: a background on transitional justice (TJ) including the major development programmes in the country, conflict sexual violence and the advocacy of the WAN at JRP; the needs and challenges facing war-affected women in northern Uganda; gaps, challenges and opportunities for local governments in meeting these needs and challenges; and practical recommendations for local and national government officials, war-affected women and civil society organisations.
Read the full policy brief here: Policy Brief – Addressing the Unredressed (PDF)