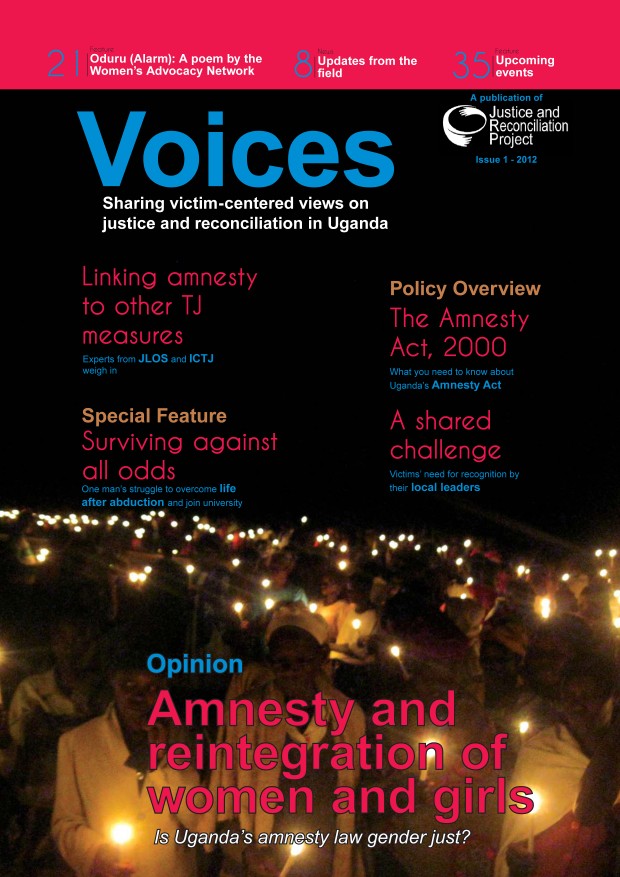 Cover of the first edition of JRP's Voices magazine
Click here to view the full issue.
JRP is pleased to announce the release of its latest quarterly publication, Voices magazine. Our mission is to empower conflict-affected communities to participate in processes of justice, healing and reconciliation, and this magazine aspires to do just that. By providing a regular, open platform for victims and key stakeholders to dialogue on local and national transitional justice developments, we will be "sharing victim-centered views on justice and reconciliation in Uganda" each quarter.
The theme of this first issue is amnesty. With Uganda's Amnesty Act up for expiration, renewal or renewal with amendments on 24 May, we have sought to present the views of the war-affected communities where we operate. In this issue, key stakeholders like Michael Otim of the International Center for Transitional Justice (pg 13), Ismene Nicole Zarifis, International Technical Advisor on TJ for JLOS (pg 6,) and members of the JRP team address the important question: What should be the future of Uganda's Amnesty Act? Like all of our work, we hope this collection of views contributes to the policy-making process currently taking place in Kampala, and links the grassroots with the decision-makers.
We hope to hear from you on what you think of this first issue. To share your comments, please write to info@justiceandreconciliation.com or SMS +256(0)783300103. Your comments might just appear in the next edition!
We also welcome article submissions of no more than 1,500 words for future issues. The next issue will focus on reparations for victims of conflict.
Click here to view the full issue.
Note: If printing on a B&W printer, we recommend you print this grayscaled version.