Voices Issue 3 (pdf)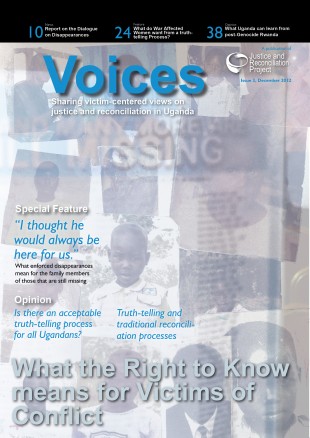 Editorial
Justice, Reconciliation and the Right to Know
Oryem Nyeko
In the middle of 2012, JRP began filming a documentary in Amuria District in Teso sub-region. We moved onto Lango, West Nile and Acholi sub-regions, where we interviewed the family and friends of individuals that are still missing because of enforced disappearances. Today, many parents, siblings and children continue to search for any information about what happened to their loved ones, a search, which to them, seemed to be being carried out alone.
The reality is that the abductions and enforced disappearances did not just affect those that were close to the missing. Instead, the issue is intertwined closely with communities in the region as their transitional justice needs become further defined. The search for the truth is not confined to a search for missing persons, but extends to the struggle for acknowledgment from those that are responsible, or partook in the two decade long conflict.
In this issue of Voices magazine, truth-telling is the central theme. The "Missing Persons Poster" , is not an exhaustive list of the missing. It was meant to serve as a reminder of the scale of the challenge and the importance of a campaign aimed at advocating for victim-centred truth-telling process in a post-conflict region like Northern Uganda.  While it is impossible to accurately depict how many people are missing, it is hoped that this poster, among many other community-led initiatives, will lead to 'the Right to Know' being a serious priority in the agenda of the Government and other stakeholders ("The Right to Truth and Justice").
The work of the ICRC in particular, in tracing missing abductees and reuniting them with family member, reflects a general sentiment of truth-seeking as an internationally recognised right. Guest writer Simon Robins examines the work of the organisation in "Missing Persons: Towards a Victim Centred Approach" . Proposed telling processes in this region are also examined from a gender perspective ("Achieving Gender Justice Through Truth-Telling", page 26), and comparisons are made with countries in a post-conflict states ("Lessons from Post-Genocide Rwanda", page 38)
The Gender Justice initiative, the Women's Advocacy Network (WAN), consists of women that were personally affected by the conflict, some of whom actually know the whereabouts of some of the missing persons. The Chairlady of the advocacy initiative, Evelyn Amony, calls on individuals, organisations and governments to come together to restore the broken links in "Our Lost Jewels" .
 What does the Right to Know mean to you? We welcome the views of readers, so email voices@justiceandreconciliation.com or visit our offices in Gulu to have your voice heard. ▪
Contents
WELCOME TO our latest edition of Voices Magazine where we bring you some local perspectives on the 'Right to Know'. In August JRP launched the 'Right to Know' campaign to draw attention to the significance of truth seeking and missing persons in the transitional justice discourse in Uganda. Key to this campaign is the legacy of the various conflicts that have occurred in Northern Uganda leaving hundreds of persons gone missing and in need of the truth of their whereabouts.From its inception, JRP has been overwhelmed by the number of persons who claim they have lost their loved ones… Read more
ONE EVENING while finalising the preparations for the Dialogue on Disappearances to commemorate the International Day Against Enforced Disappearances on 30th August 2012, we pinned up posters made by JRP in collaboration with Children/Youth as Peace Builders (CAP) Uganda, as an indicative list of missing persons in Gulu District. The waiter who brought our drinks suddenly stood there for some time while skimming through the names and finally asked one of my colleagues how he could get the name of his missing relative to be included on the poster. What caught my attention was not the question but the fact… Read more

In the last few months, the 'Right to Know' campaign has formed a central part of JRP's work. Voices Magazine sat down with JRP Programme Coordinator, Boniface Ojok, to get his insight on the campaign, its purpose and the hopes for the upcoming months. Read more.
The conflicts over the last three decades in Northern Uganda have left many impacts, some better understood than others. The large-scale LRA abductions that have come to characterise the war in the Acholiland and beyond have produced a multi-faceted response targeting returnees, their families and communities. Returnees have benefitted from counselling in district-based reception centres, support on their return home and assistance packages. In some sense however these returnees and their families are the lucky ones: many families of those abducted have heard nothing about their loved ones and remain torn between the hope that they will return and the… Read more
To commemorate the internationally recognised day against enforced disappearances, the Justice and Reconciliation Project in collaboration with Children/Youth as Peace Builders (CAP) Uganda organised a dialogue on the 30th of August 2012 between stakeholders, victims groups and civil society organisations in Northern Uganda to generate debate on addressing the issue of people who are still missing or unaccounted for as a result of conflict. Guided by the theme "the right to truth", this was part of a series of week long of activities organised by JRP in West Nile, Teso, Lango and Acholi sub-regions aimed at engaging with communities on the issue… Read more
It is early morning and we have just arrived at a family compound in the outskirts of Gulu. We are greeted by the father of the family who is apologizing for being very busy that particular morning. It has been raining heavily all night and now he has to fix the latrine, which has been damaged by the rain. The father is weak and recovering from an illness, so the heavy work is hard for him to manage. He takes time out of his busy schedule to show us around his compound. While we are walking around we are talking … Read more
Despite experiencing close to four years of relative peace, Northern Uganda continues to grapple with several recovery challenges. Among these challenges are answered questions regarding the plight of people who continue to be missing. Many of these people were either abducted by the rebels of the Lord's Resistance Army (LRA) or simply went missing due to other causes such as displacement. It is not known if many of them are still alive.
A survey conducted by an NGO called Children and Youth as Peace Builders (CAP) indicates that 1,036 people are missing in Gulu alone. A 2012 survey by JRP … Read more
Daniel is one of the boys who never got the chance to come back home like we did. Many of us were abducted but not all got the chance to come back. Some died and others are still alive. They live with other tribes in other countries. When Daniel finally found his way home, he told us about his fate and that of the other children. There are people who are still in Sudan and living among the Lutugu tribe. Some of the girls have become wives while the boys become soldiers.   The boys have also been given women from … Read more
Continuing from last issues 'Ododo Wa: Our Stories' ('Storytelling, Gender and Reparations' Voices, Issue 2, September 2012), JRP's Gender  Justice department uses the mechanism of story telling to ascertain the views of war affected women on the Right to Know, truth-telling processes, missing persons and the need for reconciliation at community level. … Read more
With a proposed truth-telling process being considered at national level, Gender Justice Team Leader Kasiva Mulli examines the factors that need to be taken into consideration if such a process is put in place from a gender perspective… Read more
Uganda is well endowed with a number of ethnic groups with different ethnic value and beliefs which are key in guiding behaviours in societies. Each group values their belongings and lifestyle and always strives to defend it at any point. Every society values truth-telling as a fundamental instrument of promoting justice and peace for the good of the societies but justice which is believed to come through truth-telling varies from person to person, society to society depending on individual needs.
The disparities in justice needs of individuals and societies has turned to define what "truth-telling" is. It is therefore important … Read more
In exploring the relevance of traditional mechanisms to the unique justice needs of Northern Uganda, JRP's Documentation department   found that truth-telling forms a central part of some reconciliatory ceremonies. In this article, mato oput and moyo kum specifically are examined vis-à-vis their role in truth-telling and the JLOS proposed transitional justice policy in Northern Uganda… Read more
On Tuesday 18th July 2012, the Justice Law and Order Sector (JLOS) released its long awaited study on traditional justice and truth-telling. The one day launch event took place at Imperial Royale Hotel in Kampala. The report contained findings of a study on traditional justice mechanisms of tribes all over Northern Uganda, and truth-telling mechanisms. The report made policy recommendations on adoption of a national policy on truth-telling and traditional justice.
Following the launch of this report, JRP's Community Documentation department decided to conduct a brief situational analysis on truth-telling within local communities, to analyse local perceptions and opinions on the subject… Read more
JRP's Gender Justice Team engaged in a variety of activities over the past few months, which have yielded great results.
Under the Ododo Wa (Our Stories) program, the Gender Justice Team developed personal history books for several formerly abducted women. The personal history books, which include the life story about a woman's life before, during, and after abduction, are important assets to the women. Many formerly abducted women feel the need to document the experiences they faced so that their children and families understand their experiences and for women to remember events that took place while in captivity.
Likewise, under … Read more
In 2012, Can-kara (not his real name) approached the Justice and Reconciliation Project in the hope that the organisation would be able to help provide a solution to a two-decade long family rift. Having searched and not found solutions in many places, he was unsure whether his family conflict would finally be resolved. This is his story, as told to JRP Project Officer Isaac Okwir Odiya… Read more
In 1994, "Robert", then 8 years old, was living in his uncle's home.  Late one night, the LRA attacked the home and abducted Robert. As the rebels were taking him, Robert was forced to watch one of the commanders, who was scarcely older than himself, brutally beat and kill his uncle. For the first week of his captivity, Robert and the commander moved as part of the same battalion. Soon, though, they were separated.
Robert eventually escaped from the LRA in 1999 and found his way to a World Vision reception center in Gulu. A few weeks later, the same …  Read more
In the aftermath of the 1994 Rwandan genocide in which an estimated 800,000 civilians – most of whom were members of the nation's minority Tutsi population – were killed, a number of initiatives have been pursued in an effort to locate and rebury with respect the anonymous victims of the violence. In the months following the genocide, survivors frequently attempted to learn the locations where their missing family members had been killed, and then conducted nonscientific exhumations aimed at locating and reburying with respect any human remains that might be found.
Then, in 1995 and 1996, the International Criminal Tribunal for Rwanda … Read more