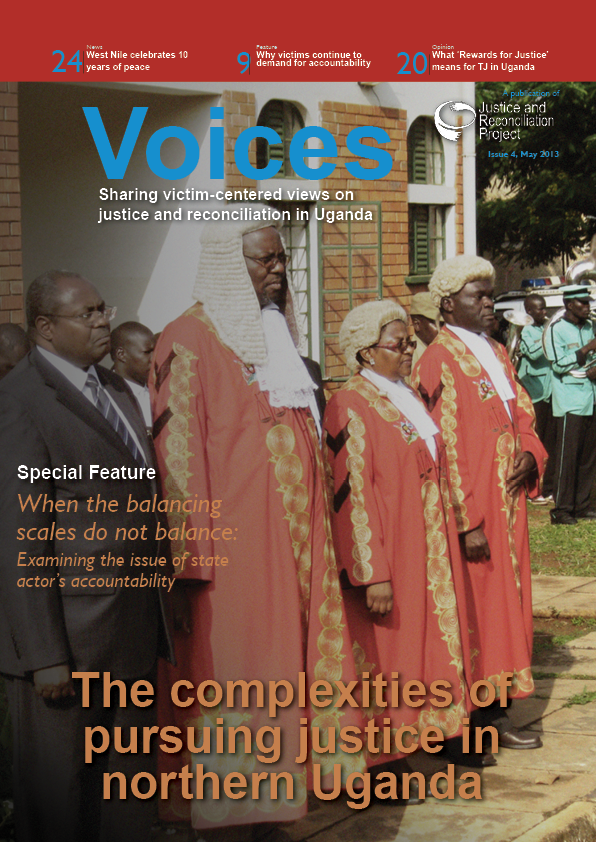 Voices Issue 4 (pdf)
Editorial
What accountability and prosecution mean for justice and reconciliation in northern Uganda
Oryem Nyeko
WELCOME to the fourth issue of the Justice and Reconciliation Project's magazine Voices. This magazine aims to share individual victim, victims group, civil society and stakeholder views on justice and reconciliation in northern Uganda and Africa's great lakes region as a whole. The theme of this issue is accountability and prosecution. This was chosen because of the recent rise in debate on accountability for perpetrators of conflict in northern Uganda. Questions that are being asked right now include what form should accountability take and who should be accountable.
In our work we have found that local views on the issue vary. Statistics from JRP's Reconciliation Barometer survey of 2012 show that up to 57% of victims of the conflict want to see perpetrators of the conflict tried. Similarly, when we interviewed two members of the grassroots organisation the Women's Advocacy Network (WAN) to find their views on prosecution, their views differed substantially ('Two Sides of a Coin: Women Survivor's Views on Accountability').
Recently international attention towards the prosecution of perpetrators of the conflcit has been renewed because of the developments under the United States' Rewards for Justice programme (see 'Why Now? What the timing of Rewards for Justice means for northern Uganda', as well as 'Only the Loudest Voices: International Perceptions on Accountability'). Locally, the standstill of former LRA commander Thomas Kwoyelo's trial continues to re-affirm the challenges that have been identified with pursuing justice in northern Uganda poses.
The tendency of stakeholders and policy makers to focus solely on rebels and rebel leaders when dealing with the issue of accountability has also been criticised. In 2005, when the ICC issued arrest warrants for Joseph Kony and four other LRA leaders for crimes against humanity and war crimes, the Court's apparent decision to exclusively focus on rebel accountability and  to ignore the actions of the other side of the conflict was met with dissatisfaction by some. In this vein, 'The Road Less Traveled: State actors' accountability in northern Uganda' examines the human rights violations by the ruling National Resistance Army  (NRA) going back as far as 1991 while 'When the Weighing Scales of Justice Do Not Balance' reflects on the perpetrator turned prosecutor dynamic of post-conflict accountability in Uganda.
Do you want to have your voice heard in a issue of Voices? We welcome any contribution on current transitional justice issues, including 1000 word opinion and feature pieces. Please email voices@justiceandreconciliation.com or call (256) 0471433008 for more information. 
Contents
Boniface Ojok
In this edition of Voices magazine we take a look at accountability for gross human rights violations. The contributions in this issue explore the local context of justice and suggest that Ugandans are at a dilemma when it comes to justice for crimes committed during the conflict in northern Uganda. A one size fits all approach doesn't necessarily apply to victims of conflict.
At JRP, we believe that a bottom to top approach to accountability is the best solution for communities decimated by conflict. We have learnt from the experiences of other countries that transitional justice interventions, ranging from truth … read more.
Lino Owor Ogora
As northern Uganda continues on its road to recovery, complex questions remain unanswered regarding how perpetrators who committed crimes during the conflict can be held accountable. One of these complicated questions is how to hold accountable individuals who bear dual victim-perpetrator identities. Another key question is whether or not amnesty should be granted to former perpetrators of war crimes and crimes against humanity. Debates on reparations, and what forms it will take, also continue to dominate the post-conflict discourse in northern Uganda. Then there is the question of how to hold state perpetrators accountable and finally, what options can be … read more.
Evelyn Akullo Otwili
In the course of the conflict in northern Uganda serious crimes of concern to Ugandans as a whole – particularly regular use of torture, murder, abductions and forceful displacement – were perpetuated against civilian populations in places like Palabek, Burcoro, Lukome, Awach, Alero, Acholi Bur, Purongo, and Namukora  in the 1990's not only by LRA but also by State Actors. As early as the 1990's, Amnesty International reported inhumane acts by the then National Resistance Army (NRA). A particularly serious set of human rights violations are reported by a several sources to have taken place between 16 and 18 April … read more.
Isaac Okwir Odiya
In the West Nile sub-region of Uganda, as may be the case in other parts of Uganda and the rest of the world, former combatants of a rebel movement and members of the very community to whom crimes were perpetrated are living a parallel lives. West Nile experienced rebel activities of the Uganda National Rescue Front (UNRF) I and II which was characterised by the looting of civilians' properties and killings, displacement and abduction among others. The rebel group is claimed to have started as a protest against bad government policies and unfair treatment to people of West Nile. Through … read more.
Nancy Apiyo
In our work at the Justice and Reconciliation Project, we have found that survivors of the conflict tend to have different views on prosecution – while some think there is need for prosecution others think that it is better to forgive and move on. Some of the views of the victims change over time depending on various factors such as lack of trust in the prosecutorial institutions both locally and internationally or lack of knowledge on transitional justice processes. The different views of the women on the same subject illustrates that transitional justice processes should be enforced together to complement … read more.
Evelyn Amony and Olive Ederu
In 2008, the Government of Uganda and the Lord's Resistance Army signed the annex to the principal Agreement of the Juba Peace Agreement on accountability and reconciliation which elaborates how perpetrators should be held accountable for crimes committed during the conflict. In line with this, the Government of Uganda established the International Crimes Division of the High Court to try individuals accused of committing war crimes, crimes of genocide, terrorism and crimes against humanity. The Court fired into action in 2011 by opening the trial of Thomas Kwoyelo who was charged with war crimes and crimes against humanity. During a  … read more.
Isaac Okwir Odiya
In the year 2012, the Justice and Reconciliation Project (JRP) and the Grass Roots Reconciliation Group (GRG) entered into a partnership to implement the Community Theatre Programme, a pilot project with two victims' groups in Lamwo District Palabek Sub County. The theatre project was designed to promote healing among conflict affected community, seek redress for rights violated during conflict through advocacy and to promote reconciliation among members of the community affected by conflict. This pilot project provided a platform for victims of the LRA conflict to creatively share their conflict experiences as well as to identify major challenges impeding healing … read more.
Kasiva Mulli and Olive Ederu
The conflict in northern Uganda was a bitter pill to women who became victims of various forms of sexual and gender based violations. Those who were abducted were forced to marriage at a very young age, subjected to rape, sexual slavery, forced pregnancies and infection of sexually transmitted diseases. Those who managed to avoid abduction did not escape this form of violence. Camp life was often characterised by rape, infection of HIV/AIDS and a lack of proper reproductive health services to respond to these violations. The Government of Uganda in its response to the sexual and gender based violence (SGBV) … read more.
Katherine Payne, Lizzy Chenery and Marijn van de Geer (Resolution:Possible)
Resolution:Possible was founded in 2010 as a UK based campaign against the Lord's Resistance Army. Very soon it became clear, through conversations and interactions with people in and from the region, that the situation in northern Uganda was far more complex than we had been led to believe. Through further research we realised that all the tensions and conflicts in the Great Lakes Region are very much connected. We were therefore no longer comfortable being a 'single issue campaign' presenting issues with clear cut solutions. Instead we realised there was an urgent need to get as much information from as … read more.
Oryem Nyeko
In recent months, the LRA conflict has been the centre of a wave of international interest that seemed, on the face of it, to come out of nowhere. It started in 2012 when a worldwide internet campaign was used to bring the conflict, its alleged perpetrators and its after effects to the forefront of global consciousness. The most recent development is under the 'Rewards for Justice' programme, an initiative of the United States' State Department, which has brought the hunt for Joseph Kony and the remaining commanders of the rebel group back to the fore. 'Rewards' is essentially a bounty-hunter's dream … read more.
Grace Acan
During this quarter, the Gender Justice Unit was able to implement the following activities under its three programmatic areas. Under our Legal Programme, we have been conducting a survey on gender needs in transitional justice in northern Uganda. The purpose of the survey was to establish unique needs of both women and men in post conflict northern Uganda as well as to identify gender gaps in ongoing transitional justice processes. Last year we conducted interviews and focus group discussions in five Districts and this year we have been compiling the data as well as preparing to begin verification workshops in … read more.
Oryem Nyeko
Following a launch in Kampala, the Justice and Reconciliation Project and the International Center for Transitional Justice (ICTJ) held the Gulu launch of their most recent report "Unredressed Legacy: Possible Policy Options and Approaches to Fulfilling Reparations in Uganda" on Thursday, 21 February 2013. The event was attended by representatives of northern Uganda CSOs and war victims' associations such as the Kitgum Women Peace Initiative, the Women's Advocacy Network and the Moyo Town War Victims Association. It served both as the official launch for many that contributed to its content and as an opportunity for discussion and feedback on the  … read more.
Vicky Esquivel-Korsiak
On November 15, 2012 JRP hosted its first annual Dissemination Forum to showcase five publications produced in the past calendar year. The Forum drew 65 participants from across northern Uganda and Kampala representing victims groups, religious leaders, advocates and other stakeholders. Through the Forum, JRP was able to highlight issues and recommendations arising from its research, including how these recommendations can be carried forward by activists and communities. The Forum also provided an opportunity to elicit feedback on the reports and how JRP can continue to improve its work. The reports disseminated included: The Day They Came: Recounting the LRA's … read more.
Sylvia Opinia
In recognition of the 10th anniversary of signing of the Government of Uganda (GoU)-Uganda National Rescue Front II (UNRF II) peace agreement, Justice and Reconciliation Project (JRP)'s community mobilization department joined Yumbe District and MAYANK Development Association and other development actors to celebrate this event. As the people of West Nile and Yumbe District in particular remember this landmark of peaceful achievement, attention is drawn to the fact that the peace process did not end with the signing of the agreement, it remains incumbent on all stakeholders to zealously guard this peace and all efforts must be garnered to consolidate it … read more.