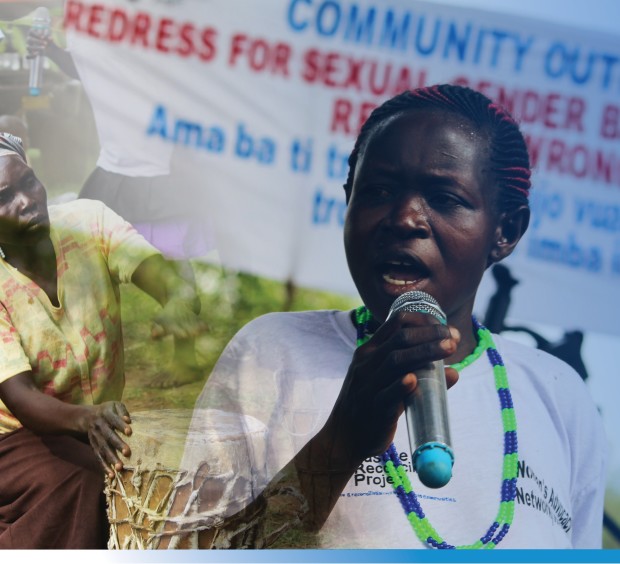 This report is a result of a consultative dialogue between JRP, its partners and stakeholders. It focuses on the complex spectrum of conflict-related violence that continues to affect marginalised victims and survivors of Sexual and Gender-Based Violence (SGBV) in Uganda.
We acknowledge that, albeit its importance,the dearth of initiatives on SGBV calls for an increase in interventions on conflict related SGBV in northern Uganda. The report argues that violence in general is intertwined with structural impediments that continue to pervasively affect societies in Northern Uganda long after the conflict ended. Inherently the continued prevalence of SGBV is a result of inequality that exists due to unequal power relations between men and women in matters such as land ownership, decision-making and community leadership, among others. Added to this is the importance of acknowledging that the widespread effects of rape and other forms of sexual violence such as forced marriage often result into unwanted pregnancies and children which leaves the majority of women suffering. Among young women who have returned from LRA captivity, the report also looks at the phenomenon of Children Born of War (CBW) whose needs and aspirations are often rarely factored into research and policy.
This report is a result of a series of consultations with stakeholders to disseminate the results of research findings based on fieldwork that JRP undertook over the past two years with funding from the John D. and Catherine T. MacArthur Foundation. It incorporates the workshop deliberations in Lira, Gulu and Adjumani, outlining some of the critical steps necessary in SGBV programming for women, men and CBW as a result of the LRA conflict in Northern Uganda. Part of the vision that is critical for renewed programming is laid out at the end of the report that largely points out that women, men and children should co-exist in mutually empowering relationships; where all are valued as equal and active players in transformative gender relations emanating from social, cultural and economical barriers in society.
Key areas for programming
After engaging participants over three separate days, the following key areas for programming on SGBV were identified:
Embracing new dimensions on victimhood: Participants noted that everyone irrespective of sex or age can become a victim of SGBV. During conflict times, men too have become targets of SGBV, although the incidence remains prevalent among women and girls in Northern Uganda. More often than not, the mention of SGBV during conflict evokes images of women raped, but not the child born as a result of that rape. In terms of programming, children too must be seen as primary victims of rape, there is a chance that they shall be left out.
Coordination among stakeholders: It is vital to build synergies with other stakeholders, as this would eliminate the disconnect between the various aspects of programming. In particular, coordination is crucial between aspects such as redress for SGBV and others like humanitarian assistance and national/regional development; education; and health. In this way it is possible to identify linkages that are important for subsequent programming and how one programme can make a contribution to others.
Multi-sectoral response: There is need to embark on a multi-sectoral approach by ensuring that all partners play a role in prevention and response of SGBV in order to address unequal power relations that exacerbate violence and entrenches aspects of vulnerability for women, men and children. The multi-sectoral model calls for a holistic inter-organisational and inter-agency effort that promotes participation of all persons concerned and coordination across sectors, including (but not limited to) health, psychosocial, legal/justice and security.
Comprehensive and long-term response to violence: The importance of looking at the bigger picture of violence in Uganda and capturing its entire spectrum was emphasised. This would ensure that the exclusive focus on SGBV does not reinforce the perspective of women as victims, but also looks at the history, dimensions and manifestations of the conflict that spanned from pre-colonial times and was entrenched along racial and regional lines by successive regimes during periods following independence. This therefore calls for prioritising long-term approaches to address the root causes of conflict through a gendered lens.
Capacity building, empowerment and sensitisation: These are crucial avenues to ensure that the right human resources and expertise in dealing with SGBV are available; the local population is well informed to be able to challenge unequal power relations; and that crimes related to gender are openly acknowledged and taken on by society in order to avoid re-victimisation. This would go a long way in ensuring there is collective action at the community level as opposed to continuous dependence on outside support.
Participation and local ownership: It is important to realise that violence usually occurs within a cultural space. It is within these spaces that we need to articulate the needs of victims and survivors. Redress for SGBV should therefore avoid top-down models of programming such that planning, design and implementation resonate with local communities, ensuring that their practices and perceptions are taken into account without reinforcing the cultural identities of men as superior beings. It is also important to integrate programming in ways that are more inclusive and broader taking into consideration the gender perspective of the roles of men and women.
Download this report here (pdf).