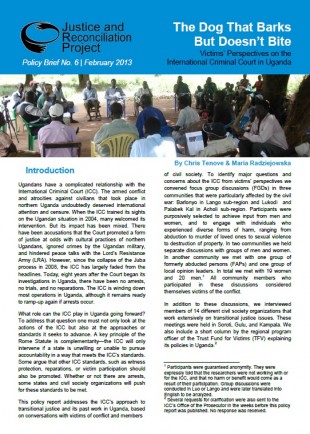 Ugandans have a complicated relationship with the International Criminal Court (ICC). The armed conflict and atrocities against civilians that took place in northern Uganda undoubtedly deserved international attention and censure. When the ICC trained its sights on the Ugandan situation in 2004, many welcomed its intervention. But its impact has been mixed. There have been accusations that the Court promoted a form of justice at odds with cultural practices of northern Ugandans, ignored crimes by the Ugandan military, and hindered peace talks with the Lord's Resistance Army (LRA). However, since the collapse of the Juba process in 2008, the ICC has largely faded from the headlines. Today, eight years after the Court began its investigations in Uganda, there have been no arrests, no trials, and no reparations. The ICC is winding down most operations in Uganda, although it remains ready to ramp-up again if arrests occur.
What role can the ICC play in Uganda going forward? To address that question one must not only look at the actions of the ICC but also at the approaches or standards it seeks to advance. A key principle of the Rome Statute is complementarity—the ICC will only intervene if a state is unwilling or unable to pursue accountability in a way that meets the ICC's standards. Some argue that other ICC standards, such as witness protection, reparations, or victim participation should also be promoted. Whether or not there are arrests, some states and civil society organizations will push for these standards to be met.
This policy report addresses the ICC's approach to transitional justice and its past work in Uganda, based on conversations with victims of conflict and members of civil society. To identify major questions and concerns about the ICC from victims' perspectives we convened focus group discussions (FGDs) in three communities that were particularly affected by the civil war: Barlonyo in Lango sub-region and Lukodi  and Palabek Kal in Acholi sub-region.
In addition to these discussions, we interviewed members of 14 different civil society organizations that work extensively on transitional justice issues. These meetings were held in Soroti, Gulu, and Kampala. We also include a short column by the regional program officer of the Trust Fund for Victims (TFV) explaining its policies in Uganda.
Read the entire brief here: The Dog That Barks But Does Not Bite (pdf).